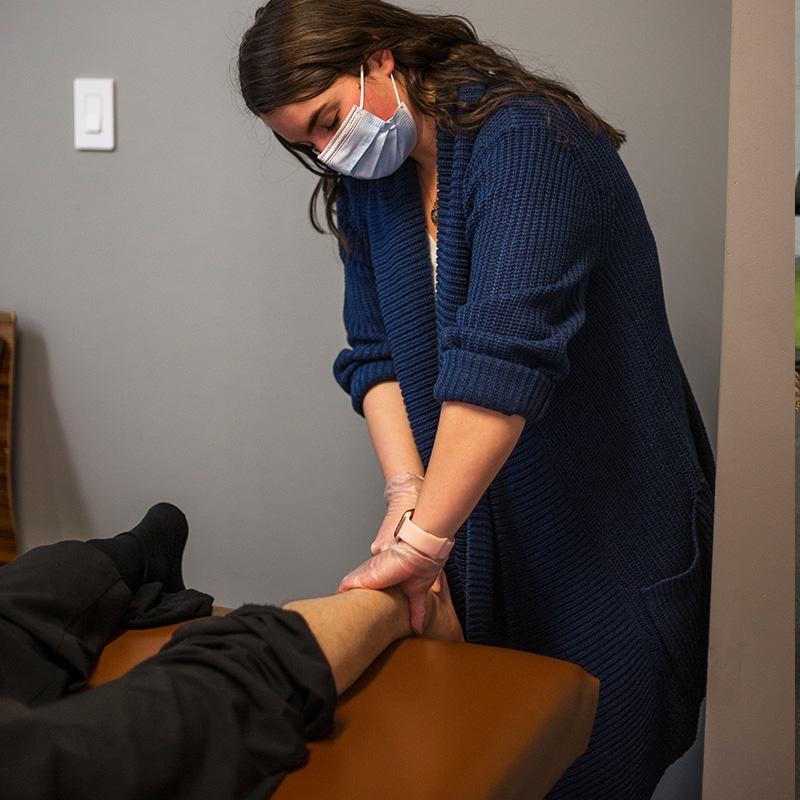 Don't Let Pain Stop You From Living Your Best Life
Pain in your feet, ankles, legs or back may all be caused by misalignment or poor weight distribution in your feet. Orthotics can help correct all these conditions, including:
The Relentless Pursuit of a Better You
Unlike other physiotherapy clinics in Edmonton South, our foundational concept of RESTORE-MOVE-PERFORM is based on a functional model that corrects and improves basic movement patterns before building strength, power, endurance, speed, and technical skill in order to prevent injuries due to compensation.
Restore
A more complete recovery and prevention of future injuries can be achieved by identifying faulty movement patterns.
Move
Correctly retraining movement patterns creates a foundation to effectively build athletic performance on.
Perform
Execution of your activities is more efficient and results in better outcomes in the gym and in activity directly.
Orthotics Designed For You Make All the Difference
The biomechanics of your feet play a vital role in how the body moves. Orthotics are specialized shoe inserts designed to realign the bones in the feet and ankles, to support and strengthen the arch of your foot, and to redistribute the body's weight more evenly. Orthotics can also correct problems like pronation, supination and plantar fasciitis.
No More Excuses
If you're still suffering from pain in your feet, ankles, legs, hips or back, it's time to stop waiting and find out if orthotic inserts can relieve your suffering. Why wait? It's time that you enjoyed the benefits that proper foot and ankle alignment can deliver:
Your Pathway To Pain-Free Performance
Book Your Appointment
Click the button below to find a time that best suits your busy schedule.
Create Your Plan of Action
Talk with our expert staff to design a plan that's personalized to meet your performance and recovery goals.
Conquer Your Goals
Enjoy your loss of pain, improved mobility and reach performance peaks you've never reached before.
Experienced Therapists near you
Meet Our Physiotherapists Near You in Edmonton South
Owner & Physical Therapist
Enjoy Relief From All The Painful Conditions & Injuries Holding You Back
Direct Billing Saves You Time and Aggravation
We work with a wide variety of major insurance companies. Depending on your coverage, you may receive services with no out-of-pocket cost to you!
From Injury to Excellence
Making the Journey Takes a Knowledgeable Team
At Propel Sports Physical Therapy, our comprehensive physiotherapist team approach supports our clients' journey from rehabilitation to optimal results. We'll help you understand the root cause of your problem, develop a personalized plan to fix it, and inspire you to push beyond what you've done in the past.
You are at the centre of everything we do. Our passion is helping our clients achieve their highest potential–helping them break through their obstacles to live fuller, more empowered lives on the field and off.
Everyday We Help Athletes Reach Their Potential
Frequently Asked Questions
Propel Sports Physical Therapy
Propel Sports Physical Therapy is a South Edmonton based treatment clinic that's been serving our community for over 14 years. Contact us today to get started on your road to tomorrow.
Unlock Your Athletic Potential With Pain-Free Performance